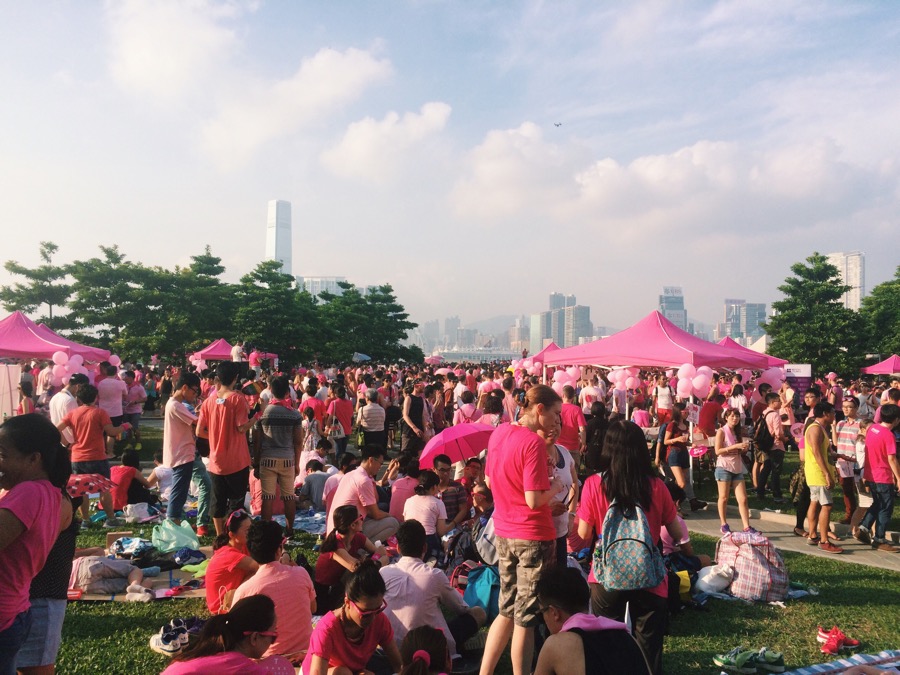 A year ago he didn't want to hold my hand. I would reach out to touch his, and he would withdraw it. He was shy and still is a bit. This year in a sea of pink shirts he would hold my hand for a bit; not long. A year ago I knew a lot of people, and he knew none. This year he knew a few more, and he wanted to meet up with them. A lot has changed from last year's Pink Dot.
The Pink Dot is a picnic and free concert held by friends of the Lesbian, Gay, Bisexual, Transsexual, and Intersex community. It is a way to show support for the community's quest for diversity, inclusiveness and the freedom to love. It began in Singapore, but Hong Kong held its first Pink Dot on June 15, 2014, where 12,000 showed up. This year over 15,500 people showed up as of 6 pm last night with more streaming as the free concert was about to start.
Since the last Pink Dot the United States and Ireland joined the other 18 countries in recognizing same-sex marriage. Caitlyn Jenner and the Netflix program *Orange Is The New Black* have raised awareness of transgender issues. Hong Kong is not keeping up with the rest of the world, but it is being pushed by forces outside and inside through the courts.
The outside push is inescapable because of Hong Kong's need to attract the most talented workers. Some of them maybe from the LGBTI community. Corporations understand this. Most of the shirts at today's Pink Dot bore the names of HSBC, JP Morgan, Goldman Sacks, Bloomberg, Deutsche Bank, Google and the list goes on. Cities like Beijing will provide a spousal visa to an LGBTI spouse to attract talent. Hong Kong will not.
A woman is suing the immigration department to win the right to be allowed to stay in Hong Kong with her wife. QT and SS, who cannot be identified for legal reasons, where married in England and them moved to Hong Kong in 2011 after SS was offered a job. QT applied for a spousal visa allowing her to live and work in Hong Kong but was denied. The couple has sued the Department on the grounds their marriage should be treated like any other marriage. The Registrar of the High Court has given notice that the judgment in the case will be handed down at the end of this November. It would have been easier if QT and SS moved to Beijing or somewhere else than to come here.
There will be more court cases to force the government to recognize the notion of equality enshrined in Basic Law. Dr. York Chow Yat-ngok, the chairperson of the Equal Opportunity Commission (EOC), is right in explaining how Hongkongers must not bury the debate on same-sex marriage. "To Hong Kong, same-sex marriage is an inescapable issue," he said in June of this year.
I cannot see a day where I will be walking down the street holding my love's hand mostly because he is too shy. I can see a day where I will have the chance to marry him and have the same rights as all Hong Kongers.