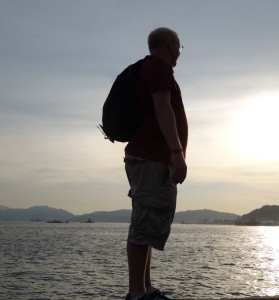 It is early. It is cold. I am on a bus to a place I have never been before. I am going because I am curious to see what is there. Just replace the word cold to hot or warm and these sentences are the best description of who I have been for the past 10+ years. My curiosity has driven me to see, to talk and learn as much as I can in the past 41 years. It has also driven me to share what I have seen, heard and learned with others. It is what drives me.
I was born in a small town called Sharon just north of Newmarket Ontario (almost 100 km from Toronto). The town had about 20 to 50 people. It was a town where people didn't lock their doors and everyone knew everyone. It was a great place to grow up as a child but would have been horrible as a teenager. Early on in my first year of primary school, I was diagnosed with dyslexia and attention deficit disorder (ADD). Reading took a lot of time for me to do. Writing was difficult since I couldn't make sense of words and phrases. I was frustrated. I was teased. I was sent to the 'dumb' class and to the 'dumb' school. I was driven to be 'normal' and to show the skills and talents I always knew were in me. When I was a teenager, we moved away to a bigger city, St. Catharines. It was a chance for me to start over and not be seen as the 'dumb kid.' In secondary school I met a mentor who said I could do anything and be anything. I knew a lot of things about a lot of different parts but not a lot about something specific. I was a generalist. I liked the idea of being a journalist as I liked to talk. I liked to be involved. I liked knowing a lot about the world. I did a lot of things in secondary school such as being president of the student council, managed most of the sports teams, and spent two years writing for the local university, Brock, newspaper. I loved talking to strangers and reporting what I learned. I worked hard and was able to get into Ryerson Polytechnic Institute (now called Ryerson University) for Journalism. In my year 10,000 applied while only 110 got in.
In my first year I got crushed, constantly. There was more red marks on my paper then ink. I did poorly but I loved the experience. I was living in a big city of Toronto. I was more interested in the experiences then the schooling. The marks in my electives were horrible and yet the marks in my reporting were respectable. I met friends who introduced me to the stylings of Hunter Thompson and H.L. Mencken. I explored the city and I explored where I was and what I was doing. I volunteered at the local newspaper the Toronto Star to be part of their municipal election coverage. While others went home to study, I stayed out  until 4 in the morning talking to the reporters. I failed the economics exam the next day but it didn't bother me that much as I learned a lot that night far more than what could be found on a test. The marks caught up with me and I was asked to take a year off – academic suspension.
I took a year and traveled from my home in Toronto to New York down to Florida over to New Orleans up through Texas landing in Taos New Mexico where I spent 4 months in the mesa. I volunteered in an artist commune. We would sit up and talk. They would paint, while I would just sit and watch. I learned so much from this time that it helped me to fall in love with travel. I ran out of money and booked a bus back from Taos back to my home. I came back ready to take journalism seriously. As our final year, we were to write for the student newspaper. I thrived and loved every moment of it. I came back more mature and had more stories to tell and to share from both the trip and also about what I learned from the strangers I had met on the road. Where I had been shy and timid, I was no more. I graduated broke and the bank was asking for their money.
I survived on low paying jobs and living with my mom and dad as I applied for journalism jobs but there was none in the offering. I took a job as a junior assistant to a politician in the provincial legislative assembly. The pay was horrible but kept the bank happy. The stress was high, the boss was horrible but I needed the money.
I quit that job and worked for a different Member of Provincial Parliament (MPP). The assistant taught me how government worked. He taught me how politics worked. He showed me how polling and numbers work. He taught me how to campaign and how to influence the public. I learned quickly and started understanding politics more and more. I worked on all election campaigns big and small. I met more people and learned more. I became a Senior Advisor to an MPP. In that role I drafted two pieces of legislation, one on drinking and driving and one on emergency responders, which are now law in Ontario. With my MPP, we worked on drafting new guidelines in the Ministry of Education for trying to encourage more students to look at trades and apprenticeship work.
I was offered a chance to be an advisor to the Minister of Community, Family and Children Services, the so-called Ministry of Misery. It was there that I learned my other passion: I love to help. My job was to solve problems and put out fires. I received over a hundred phone calls and emails a day ranging from welfare, to disability payments, to parents neglecting their child support payments to autistic children, to abusive parents and the child being removed to all other sorts of human misery. My job was to get the full story behind every case. I was to see what can be done to help, what issues could explode and become a provincial or national story. I developed communications and information briefings with other politicians. I worked an average of 12 hour days as well as most saturdays. The job was amazing and probably the best job I have ever had but it took its toll. I was cranky and tired. There were some personal tragedies. My relationship was falling apart and there was an election coming up and we were going to lose. I was not a typical government employee meaning if our party lost, I lost my job. I didn't want to go into Government Relations or Public Relations as I dealt with a lot of that and it wasn't my thing. I sold my stuff, packed my bags and flew to Seoul Korea in August 2003.
For 7 years I taught everything and everyone from Kindergarten to senior citizens. I have taught in private schools and public ones. I have taught in primary, secondary schools and universities. In Korea I continued my traveling obsession traveling to: China, far too many times to count; Mongolia; Japan, far too many times to count; Thailand; Taiwan; and yes North Korea. I also traveled extensively throughout Korea (In Korea there is no north or south but only one nation divided so the locals refer to it as Korea and I have taken this idea as well at least in this piece as it is personal writing). Along the way I wrote post cards to friends back home and a friend suggested I start writing about my experiences which I started with this site. I didn't write every day but I wrote what I could and when I felt like it.
Four years ago I came to Hong Kong as part of the government's NET Scheme. A friend of mine recommended me for a job in the most northern parts of the territory.  My school is challenging not because of the work but because of the students. Most of our students come from the Mainland and there are many unique issues facing these students. I felt I was a good teacher but needed to become better. I enrolled in the Post Graduate Diploma in Education at The University of Hong Kong and passed easily in two years. I have continued to explore and travel again through Laos where I volunteered for a month, to Sri Lanka, Indonesia, India and now Europe where I am currently writing.
So why Journalism? I felt I never really gave it a shot to become a journalist since my need to pay off debts and making a living forced me to take another path. In my entrance letter for this program, I talked about how I felt I was scared in the first years which create  my lack of confidence in expressing myself. In this writing you will notice a lot of grammatical and spelling mistakes I am sure and it is these mistakes which hurt my confidence. Recently, in both my courses and my teaching I have learned that meaning must always come ahead of accuracy. My dyslexia and ADDness are still with me and will be part of me forever but I have tried to learn ways around it. They are no longer obstacles in my path to learning. I want to learn how to share my stories more and to become a better person, after all that is why anyone continues to learn – to become better.