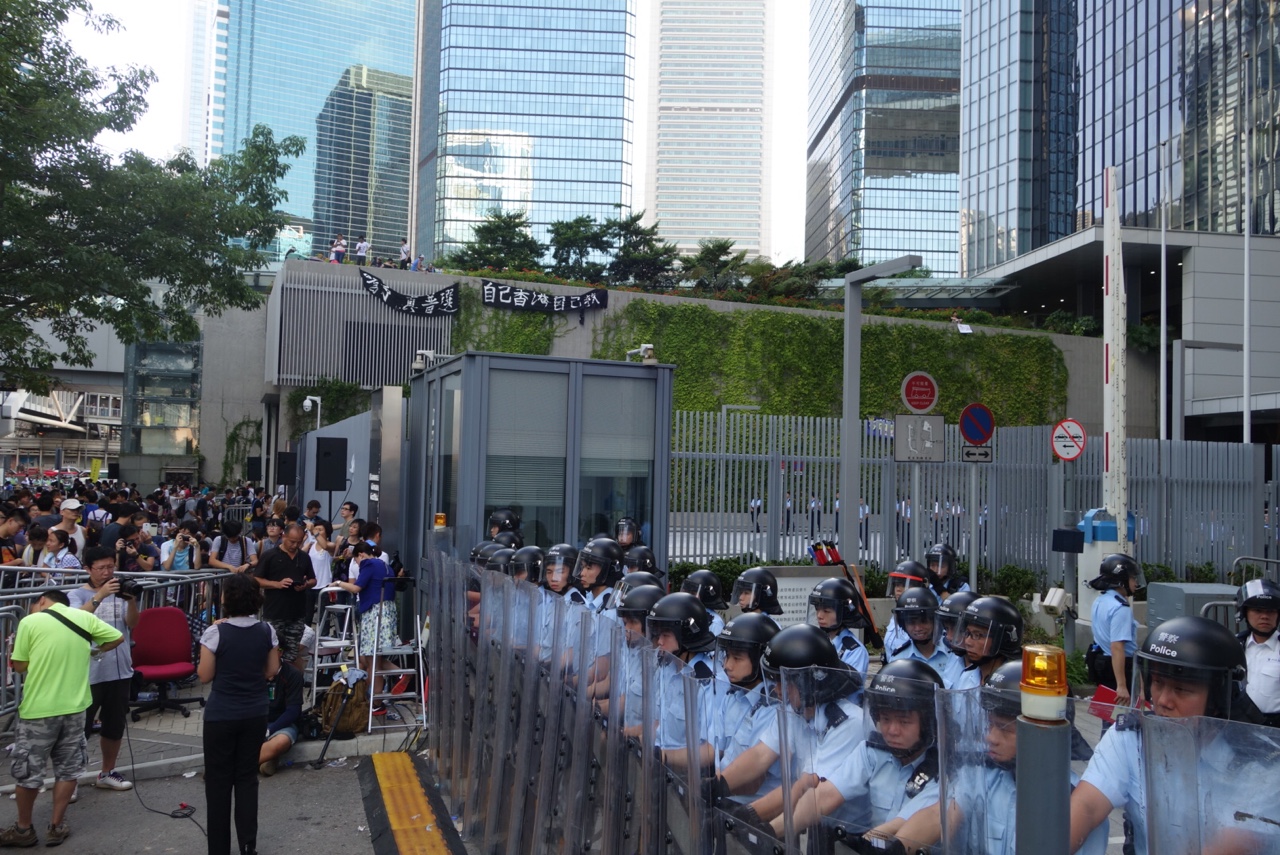 The morning started with peper spray and riot police. When I left this afternoon, it was thousands of people sitting on the street, with makeshift masks made from cling wrap, tissues and surgical masks as well as goggles on to protect them from further pepper spray.
In Tamar Park, behind the Legislative Council was a small group of Pro-Beijing people making up at least 50 or maybe even 60 people. The thousands of pro-democracy protesters were shouting slogans and chanting about free elections in Hong Kong. The people in Tamar Park were ignored, it was like they didn't exists.
I wasn't there for the whole day but read about the police facing off with protesters last night and throughout the mornings. The protesters had broken through to the Civil Square part of the Government building. The police had the area blocked out. There were warnings via twitter asking people to not post pictures to Facebook for fear of being arrested. There were pleas for more people to come and support the students as well as to bring more water and some food incase the it lasts all night. Seventy four were arrested as a result including one of the leaders of the movement, Joshua Wong Chi-fung, 17 years old.
When I awoke this morning, there were many texts and messages from my classmates who stayed out all night with the protesters. There were also many messages via Twitter documenting what had happened. After my class, I went to the park.
I found the mood tiring. Many were sleeping on the road and anywhere they could. The leaders gave speeches but most looked drained from the day. The riot police, with their shields, were blocking the building. There were attempts by the protesters to lay flowers, something reminiscent of what I saw in the 60's peace movement films.
There has been a call for a press conference at 8 pm tonight along with more demonstrations through out the night and I suspect through tomorrow. Where it will get interesting is on Monday, when the students go back to school and everyone goes back to work. I hope everything remains peaceful but I have been blamed many times for be an eternal optimist.